Miele CVA 7845 Built-in coffee machine with DirectWater
Perfectly combinable design with CoffeeSelect + AutoDescale for highest demands.
Large touch display with movement sensor – M Touch + MotionReact
Individual coffee enjoyment with 3 bean containers – CoffeeSelect
Perfect care – fully automatic with AutoDescale and AutoClean
Perfectly positioned: thanks to the patented CupSensor
Two coffees at once at the touch of a button – OneTouch for Two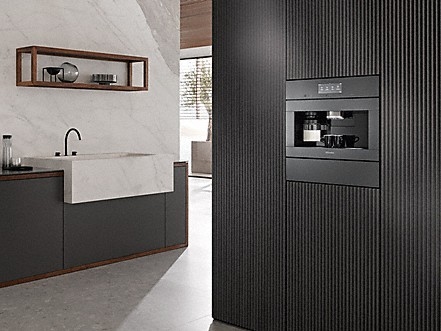 Always ready for operation
Practical and convenient: some of our coffee machines can be plumbed in. This means there is no need to keep topping up the water – saving you time and providing added convenience. Plumbed-in appliances can also be converted for operation with the water container if desired.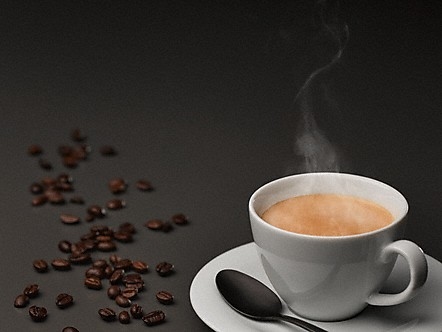 Taste the difference: the beans are freshly ground by our innovative conical grinder for each cup of coffee and then brewed straight away – in a unique aroma-preserving way. This is possible thanks to the new grinder position directly above the brew unit. This ensures that no remnants from a previous brewing process remain in the grinder, guaranteeing unadulterated flavour. The conical grinder is very quiet so you can enjoy your coffee in peace.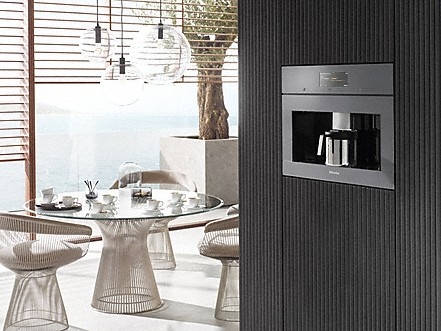 Convenient when having guests
Making coffee for lots of people? At the touch of a button, the Miele coffee machine dispenses up to eight cups of coffee one after the other into a coffee pot placed under the spout. It can also dispense enough water to fill a teapot. And with the practical insulated coffee pot, available from Miele as an accessory, you can keep your tea or coffee warm for longer.
CupSensor - Exclusive to Miele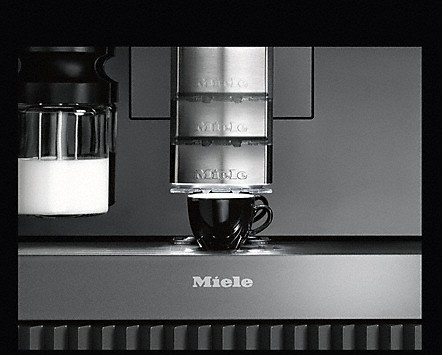 Always in the right position
Perfect positioning: thanks to the CupSensor1, the height of your cup is detected automatically and the central spout is positioned accordingly. The CupSensor can be lowered to 4 cm and raised to 16.5 cm. This prevents splashes and ensures convenient positioning of large latte macchiato glasses . BrilliantLight places your cups in the spotlight with soft LED lighting.