Miele DA 2698 Extractor unit
with energy-efficient LED lighting and light-touch switches for easy use.
Customised kitchen design-fully integrated in 880mm width
Unique user convenience – Con@ctivity
Powerful-890m3/h on the booster setting
Energy-efficient and quiet-powerful ECO motor
Elegant and efficient-edge extraction panels
Con@ctivity-Exclusive to Miele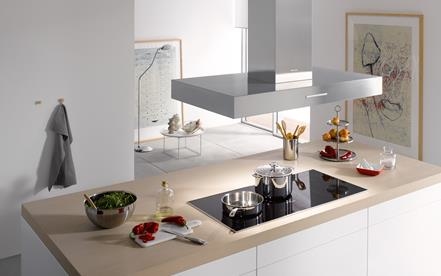 Automatic operation for intelligent fan control

Achieving optimum extraction of kitchen vapours and odours-while also saving energy: A Miele cooker hood equipped with Con@ctivity 2.0 does this automatically. Miele Con@ctivity 2.0 enables the cooker hood to communicate with the hob. Con@ctivity 2.0 gathers information from the hob and transmit it to the controls in the cooker hood. Your Miele cooker hood then uses this data to automatically select the correct fan setting to ensure the optimum room microclimate at all times. So you can concentrate completely on the cooking process. You don 't even have to remember to switch off the appliance. With the automatic run-on control, the cooker hood will switch itself off automatically after you have finished cooking so you do not use any more energy than is necessary. Manual operation is also possible .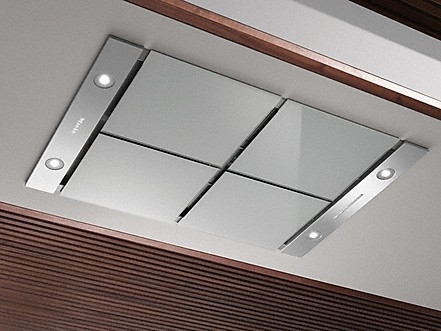 Decorative individual panels to conceal the filters
In cooker hoods with edge extraction the commercial-looking metal grease filters are hidden behind a decorative cover. Cooking vapours are extracted around the perimeter and for hoods with multi-zone extraction from the centre area of the hoods as well.
The automatic fan run-on ensures the full extraction of steam and odours still in the air after cooking. The cooker hood can be set to switch off automatically after 5 or 15 minutes.
Countdown time conveniently in view
If the grease or active charcoal filter of your Miele cooker hood is saturated, it is indicated by a lit-up red LED. Your filter should then be cleaned or replaced as soon as possible. You can individually adjust the factory-set service life of the filters: The grease filter saturation indicator can be programmed for 20, 30, 40 or 50 hours, the indicator for active charcoal filter replacement for 120, 180 or 240 hours.