for healthy cooking with automatic programmes, networking and sous-vide cooking.
Large clear text display with sensor controls – DirectSensor
Perfect results – DualSteam technology
Perfect results guaranteed every time – Automatic programmes
Oven compartment lighting – 2 LED spotlights
Network-enabled WiFi appliance – Miele@home
Large oven compartment and large tray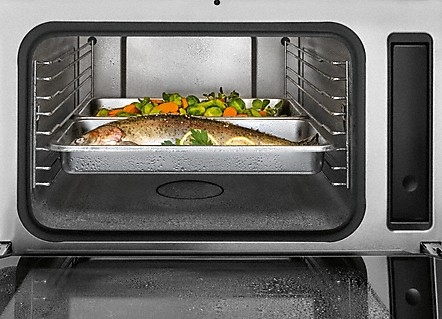 Plenty of room for creativity

Cooking for the whole family: the oven compartment of the Miele steam oven with DualSteam allows you to cook large quantities of food at the same time and serve it when it is cooked to perfection. Thanks to the 40-litre oven compartment, you can place one large or two small cooking containers on each of the three levels. This gives you plenty of room to cook for lots of people with ease.
Automatic programmes
Effortless cooking with perfect results
How long does the rice take? How about the vegetables? When cooking with automatic programmes, you don't have to select the temperature or the duration – your appliance will take care of everything to make life easier for you. Do you prefer your carrots with a bit more bite? You can specify the degree of cooking for many types of food.
Sous-vide cooking -Cooking under vacuum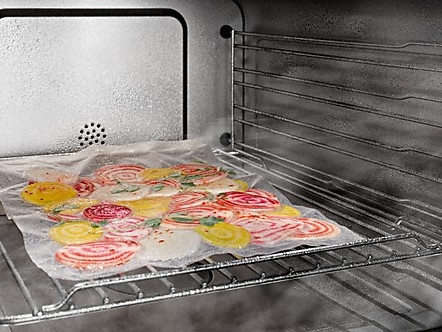 Even and gentle: you can cook food in Miele steam ovens using the sous-vide method. This involves cooking things like fish, meat, fruit or vegetables gently and at low temperatures over a prolonged period of time. The results are incredibly aromatic and flavourful . The food retains its appearance, shape, vitamins and minerals.