Miele DGC 7860X 48Liters 60cm Handleless XXL Steam combination oven
for steam cooking, baking, roasting with wireless food probe + menu cooking.
Large touch display with proximity sensor – M Touch + MotionReact
Perfect results – DualSteam technology
Crispy outside, succulent inside – combination cooking
Miele@home – network-enabled WiFi appliance + Mix & Match
Easy cleaning – PerfectClean stainless steel oven compartment
Mix & Match - Exclusive to Miele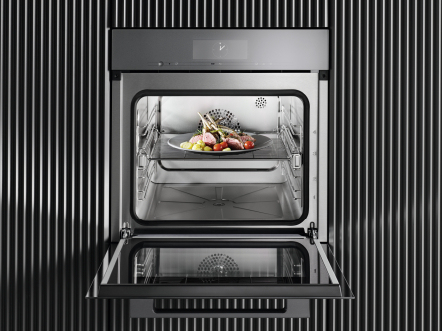 Healthy food in no time: with Mix & Match you can combine different foods and cook or reheat them in less than half an hour. Simply place all the food inside the appliance at once and take it out at the end of the selected programme. In this way, you can conveniently cook a full plate of food without having to worry about different cooking durations and temperatures for each of the individual components.
Motorised lift-up control panel with SoftClose - Exclusive to Miele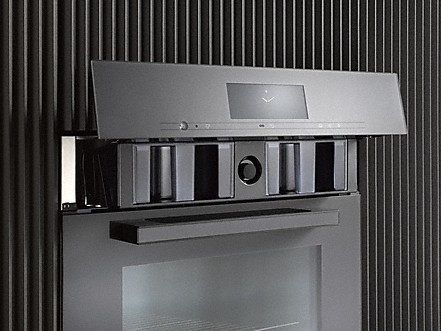 More than just a control element
Design and user convenience combined: the control panel opens and closes gently at the touch of a finger – without opening the appliance door. Hidden behind the lift-up control panel are the water container, condensate container and the wireless food probe. The panel tilts towards you when you press the sensor control to give you the best view of the display.
Stainless steel oven compartment with PerfectClean - Exclusive to Miele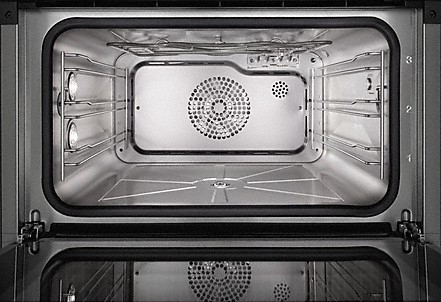 Ample space, fast cleaning: the stainless steel oven compartment has a generous usable capacity of up to 68 litres and can therefore accommodate large cooking containers – for example, for whole chickens. This allows you to cook complete menus for 8 to 10 people. In addition to the generous space available, the oven compartment surface is not susceptible to corrosion/rust formation and is extremely easy to clean thanks to the PerfectClean finish.
Automatic menu cooking - Exclusive to Miele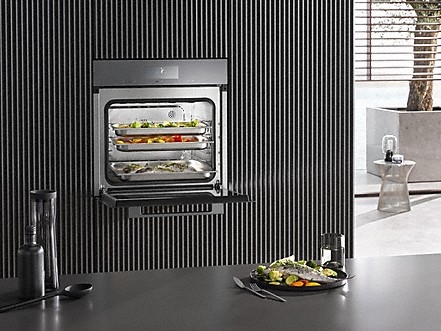 Fish or meat, potatoes and vegetables – with automatic menu cooking you can cook up to three different foods at the same time. The appliance will select the right temperature, cooking duration and sequence. All you need to do is put the food in the steam oven at the right time and in the specified sequence for perfect results. This allows you to cook an entire menu in just one cooking process.