Miele DGM 7440 40Liter 55cm Steam oven with microwave
for healthy cooking and rapid heating-up with networking.
Large clear text display with sensor controls – DirectSensor
Perfect results – DualSteam technology
Consistent and quick microwave results – Quick & Gentle
Perfect results guaranteed every time – Automatic programmes
Shorter cooking durations by combining steam with microwave power
DualSteam - Exclusive to Miele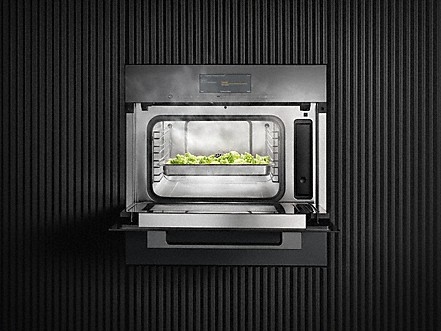 All-round expert for even results
Perfection to suit personal tastes: as the ideal complement to the oven and hob, the Miele steam oven ensures perfect cooking results. You can even cook entire menus comprising multiple courses in one go. Quick heat-up times and cooking durations combined with even steam distribution make preparing meals a breeze – thanks to the unique external steam generation with DualSteam.
External steam generation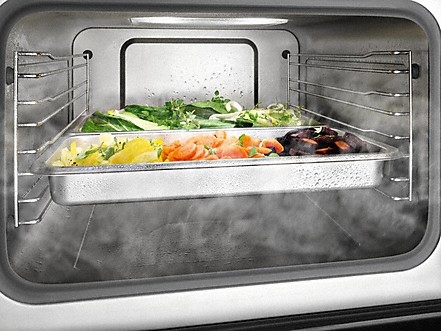 The benefits of external steam
Innovative steam system: unlike other systems, the steam is generated outside the oven compartment in our appliances. The steam flows into the oven compartment at high speed and displaces the oxygen. This results in fast heating and optimum temperature measurement and preserves the natural colour of the food. And because limescale cannot build up in the oven compartment, cleaning is particularly easy.
Quantity-independent cooking
Different quantities, same cooking duration
Whether you want to cook a single portion or enough for the whole family – and regardless of whether the food is fresh or frozen – the cooking duration in our steam oven is always the same. This makes life easier for you because you don't have to weigh things out and calculate the different cooking durations.
Automatic keeping warm function - Exclusive to Miele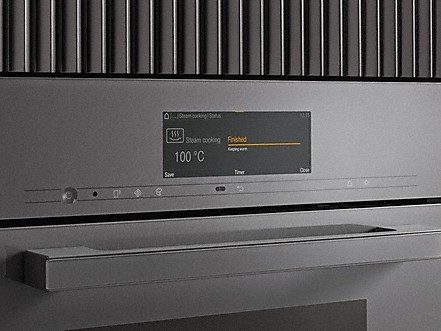 Keeps food warm automatically
At the end of the cooking time, food is automatically kept warm for up to 15 minutes without loss of quality. So it does not matter if you are a few minutes late.