Miele 
H 7840 BMX 
Handleless microwave combination oven
with a seamless design, automatic programmes and food probe
Large touch display with movement sensor – M Touch + MotionReact
Easy cleaning – compartment with PerfectClean & linen structure
Faster and more consistent results – Quick & Gentle
Network-enabled WiFi appliance – Miele@home
Get what you want in one easy step – Quick MW and Popcorn button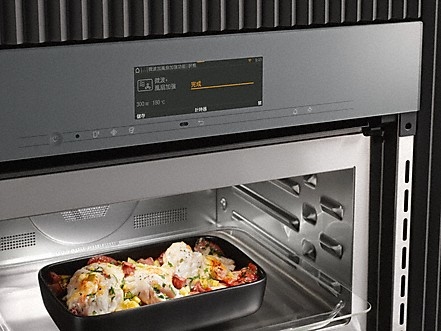 Select maximum power straight away
With the Quick Start function, you can select maximum microwave power straight away at the press of a button. This allows you to heat food and drinks quickly without selecting the temperature. You can easily reprogramme the defined time values to suit your personal preferences – for example, if you want to heat up a cup of tea in the evening or warm some baby food.
Stainless steel oven compartment, linen structure - Exclusive to Miele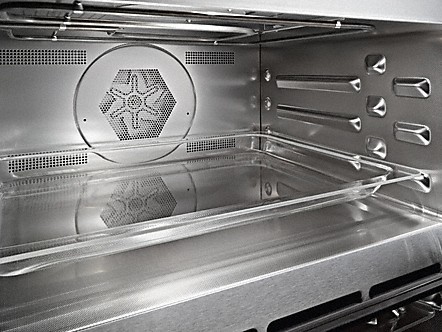 Significantly less residue adheres to the walls of the oven compartment during cooking. This is because the compartment of the microwave combination oven is made from high-quality stainless steel with a special linen structure. The surface also has a PerfectClean finish, making it particularly easy to clean – thanks to the sophisticated surface system, you can save time on cleaning and enjoy outstanding results.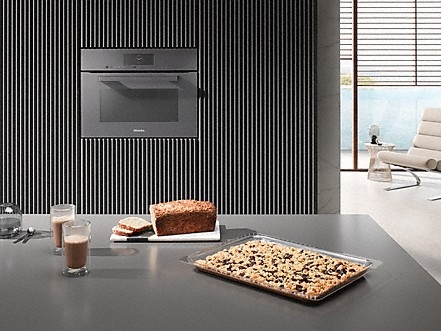 One appliance, numerous possibilities
Create magical dishes even when kitchen space is limited: you can cook food conveniently in either microwave or oven mode using just one appliance. A combination mode is also available for perfect results in less time. Numerous functions provide the ideal settings for any situation – whether you want to heat up, cook or defrost your food.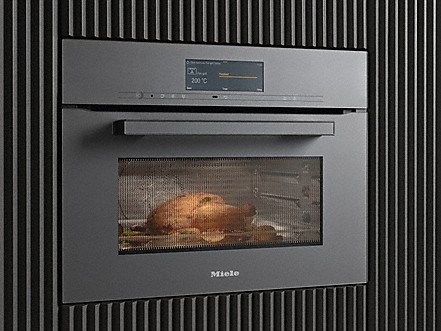 The only thing that gets hot is the food
Miele microwave combination ovens are cooled on all sides. This ensures that controls, handles and adjacent cabinets stay relatively cool to the touch. The multi-layer panels insulate the oven door effectively and ensure a low temperature on the outside of the door, providing safety and protection against burns.