Miele H 7890 BP 90Liters 90cm wide oven
seamless design with food probe and BrilliantLight.
Large touch display with movement sensor – M Touch + MotionReact
Keep an eye on what's cooking anywhere at any time – FoodView
Minimal cleaning effort – Pyrolytic cleaning equipment & PyroFit
Especially light dough and nicely browned crusts – Moisture plus
Ensures your food won't overcook – TasteControl
Moisture Plus - Exclusive to Miele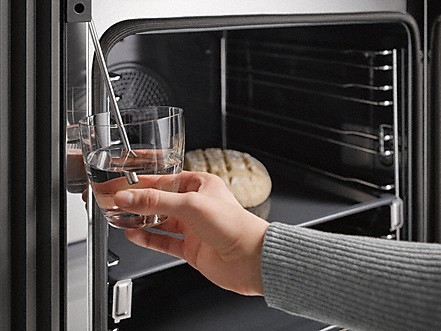 Optimum results with additional moisture
The easiest way to achieve perfect results: various functions allow you to add extra moisture. This ensures that meat is tender and succulent inside with a delicious crust on the outside, and that bread and rolls are soft yet perfectly browned. For extra convenience, you can programme times for the bursts of steam. Moisture plus is also used in various automatic programmes.
FoodView - Exclusive to Miele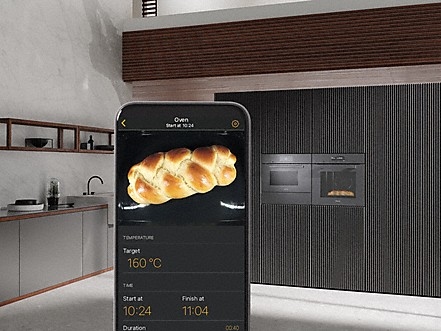 Keep an eye on your food

Now you can keep an eye on the food in your oven no matter where you are: a camera integrated into the ceiling of the oven compartment will show you what your food looks like via your smartphone or tablet. If you need to, you can also adjust the settings on your networked oven remotely via your mobile device. This gives you more control and, hence, more freedom – plus unrivalled convenience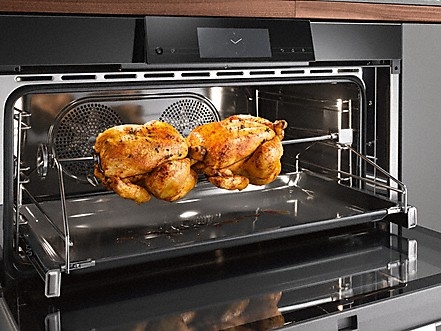 Enjoy delicious grilled chicken from your own oven: with the rotisserie option for 90 cm-wide ovens, you can grill chicken and other meat on all sides at home – for crispy skin and succulent meat. This option is also ideal for cooking perfect spare ribs .
Pyrolytic cleaning and PyroFit accessories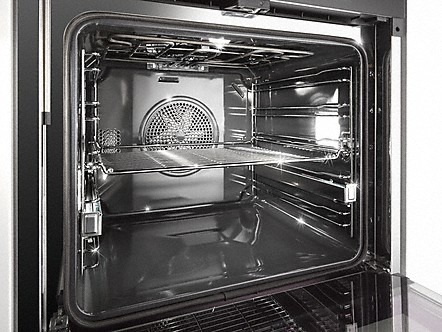 Making life easier: the pyrolytic cleaning process turns all food residue to ash which can be easily removed from the oven surfaces without a trace – minimising the amount of cleaning you have to do. This means there is no need to spend hours scrubbing the oven with aggressive cleaning agents. Depending on the model, some accessory parts can stay in the oven during cleaning for even more convenience.