Miele 
KWT 6321 UG 
Built-under wine conditioning unit
Active charcoal filter & Dynamic cooling for best storage conditions in 2 zones.
Best storage conditions thanks to precise temperature regulation
Odourless refrigeration section thanks to Active AirClean filters
Present your wine in the perfect light - LED lighting
Optimum wine protection through UV filters in tinted glass front
Secure storage of wine bottles with pull-out racks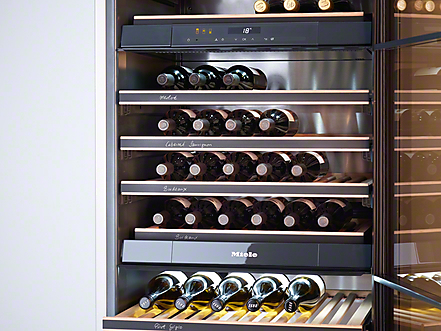 Miele wine units are fitted with up to three temperature zones which can be controlled separately. Up to three different types of wine such as red wine, white wine, champagne or sparkling wine, can be stored at the same time and under perfect conditions.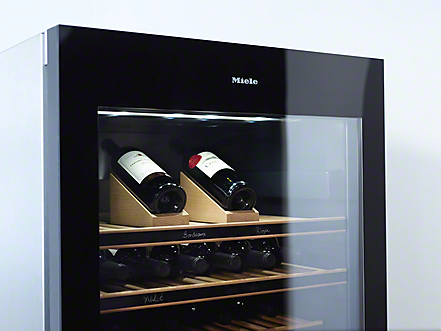 Beautiful and protects precious wines
UV rays can cause chemical reactions in wines. Miele glass doors are made of tinted safety glass with integrated UV filter. Your wine is stored with optimum protection from UV rays.
DynaCool (dynamic cooling)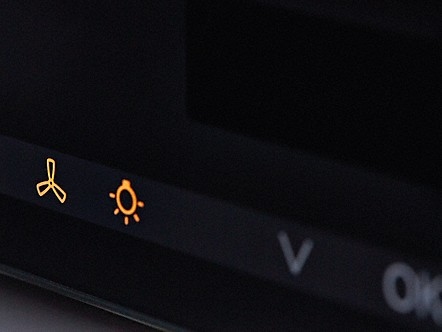 Perfect storage conditions for food and wine
A fan circulates the cold air to ensure uniform temperature and humidity throughout the entire unit. This ensures constant and perfect storage conditions for your wine. Humidity levels of around 70 % also prevent corks from drying out.
Storage with low vibration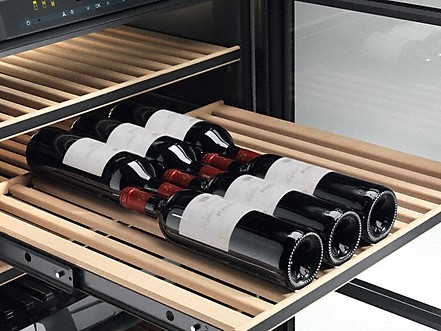 Specially developed for storage in the wine unit
In order to store your wines in an extremely gentle manner, Miele wine units are equipped with specially optimised components: The compressor, which is optimised to run quietly, is also mechanically uncoupled from the housing. This allows your wine to be stored without vibrations.