Miele M 7244 TC 46Liters 60cm Built-in microwave oven
in a design that is the perfect complement with controls on the top.
Clear-text display with sensor controls – DirectSensor S
Optimum and even browning – integrated Quartz grill
Perfect defrosting and cooking – Automatic programmes
Plenty of room – 46 l oven compartment volume and 40 cm turntable
Popcorn at the touch of a button – Popcorn button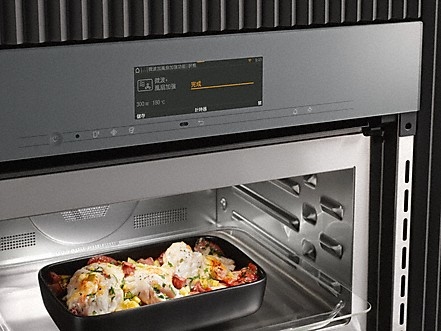 Select maximum power straight away
With the Quick Start function, you can select maximum microwave power straight away at the press of a button. This allows you to heat food and drinks quickly without selecting the temperature. You can easily reprogramme the defined time values to suit your personal preferences – for example, if you want to heat up a cup of tea in the evening or warm some baby food.
XL oven compartment - Exclusive to Miele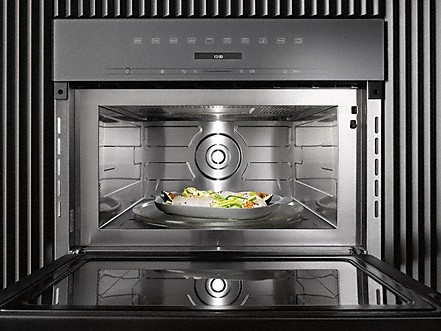 Large oven compartment for flexible use
With a usable oven compartment volume of 46 litres, our appliances with TopControl provide all the space and flexibility you need to get creative in the kitchen.
Visible flavour: the integrated Quartz grill browns your dishes evenly and quickly in combination with the turntable – operating at full power after just a few seconds. This adds the perfect finishing touch to potato-topped dishes and certain desserts, for example, and ensures they taste as good as they look.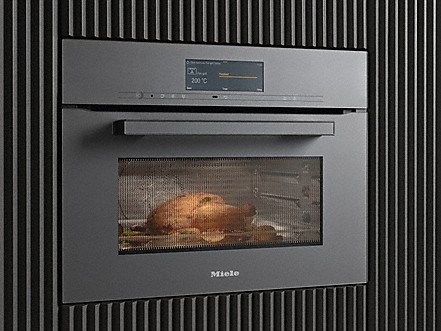 The only thing that gets hot is the food
Miele microwave combination ovens are cooled on all sides. This ensures that controls, handles and adjacent cabinets stay relatively cool to the touch. The multi-layer panels insulate the oven door effectively and ensure a low temperature on the outside of the door, providing safety and protection against burns.